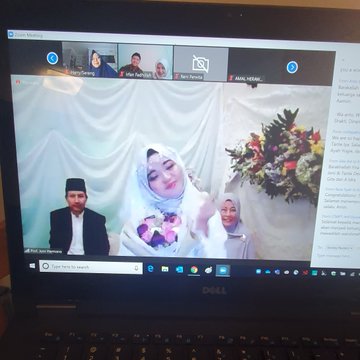 Video Call Marriage at Pandemic Covid-19
Wah senang banget ketika akhirnya hari ini bisa melihat ada yang menikah via video call. Yang menikah adalah Max Walden dan Fira Gayatri.
@maxwalden_ adalah Reporter/Producer di @ABCNews Asia Pacific Newsroom and PhD researcher @MelbLawSchool .

Shaffira atau @firagayatri seorang aktifis Gender, refugees, Islam, world lit, etc. Previously @SFCG_ @SFCG_Indonesia @wri_indonesia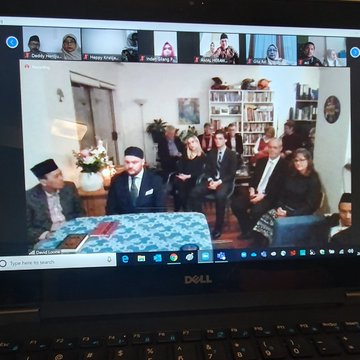 Ini dia komentar salah satu temannya, erwin rinaldi, di twitter. Gambar foto di atas juga aku ambil dari cuitannya.
It was a beautiful and emotional marriage solemnization between Surabaya, Indonesia and Sydney, Australia. Congratulations
@firagayatri
and
May Allah bless your marriage and families. What a beautiful evening
#joyoftearsmoment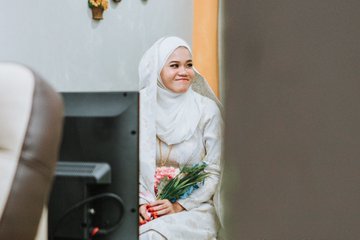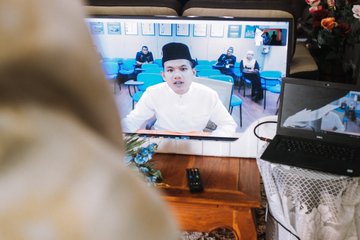 Dan ternyata di Malaysia pun sudah pernah ada nikah via video call. pun di masa pandemic covid-19 ini.
Pas aku cari-cari, ternyata menurut ustadz Salim A Fillah, nikah via video call boleh lho. Dulu Rasulullah saat menikahi Ummu Habibah, mewakilkan pada keponakannya Jafar bin Abi Tholib. Sehingga kalimat jafar bin Abi tholib adalah aku terima nikahnya ummu habibah untuk Rasulullah SAW.
Setuju sih ya.
Apalagi kalau baca komentar-komentar para netizen di berbagai media sosial ini.
KALAU DiTUNDA.. PERZINAHAN Di Mana-mana.
TERUS. KASIHAN YG DAH SIAP NIKAH.. MALAH MESTI MENUNDA
mau ibadah aja kok dipersulit kek gini bikin nambahin dosa
Nasib yang PGN nkh gmn ksihni lah kami udah pgen hlal
Meski ada juga beberapa pendapat yang belum mengijinkan adanya pernikahan via video call begini. Tentu saja dengan berbagai dasar dan referensi yang mereka yakini, berikut maslahat dan madharatnya.
Untuk Maxwell dan Gayatri. Selamat berbahagia!
Juga mereka yang berjuang keras untuk bisa melangsungkan pernikahan di masa pandemi covid-19 ini.
Turut berbahagia dan mendoakan.
Semoga berkah sakinah mawaddah wa rohmah.
Most of all, berbahagialah kalian yang serius dan tulus sehingga akhirnya sampai ke jenjang pernikahan.
Tidak banyak yang punya keberanian untuk mengambil tanggung jawab dari apa yang telah mereka janjikan dan tumbuhkan benih harapan.